Sulphur Bentonite 90%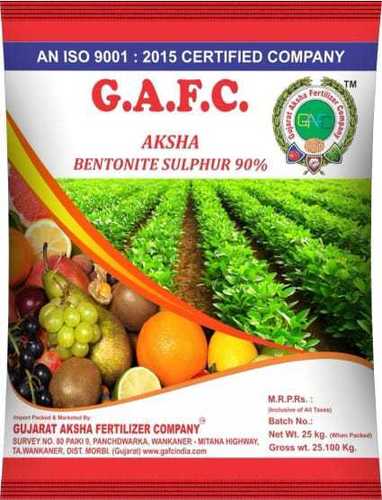 Sulphur Bentonite 90%
Price And Quantity
Product Specifications
Product Description
Following the established ISO 9001:2008 standards, we play a key role in offering our customers a wide variety of Sulphur Bentonite, which is used to improve vegetable crops' pungency, fruit quality, and production. It gives plants sulphur, one of the key macronutrients, which boosts the uptake of nitrogen and phosphorus and increases the efficiency of NPK fertilisers. This Sulphur Bentonite is produced under the strict supervision of our knowledgeable chemists and is sold at market-beating pricing in a variety of packaging options.
90 percent GREEN LIFE SULPHUR BENTONITE
USE / BENEFITS :
90% of Fada-90 is pure sulphur. the fertilisers with the highest sulphur content in India. Thus, sulphur is now available in granular form for convenient broad casting and durable effects.

The fourth significant macronutrient absorption is fada-90.

Fada-90 in pestile form slowly releases sulphate to the soil, making it available to plants and usable yet inaccessible to leaching and waste.

The soil in India has a sulphur shortage of 30% to 50%.

Fada-90 boosts N.P.K. efficiency and increases nitrogen and phosphorus uptake.

The addition of sulphur to alkaline soils.

The pungency, fruit quality, and productivity of vegetable crops are all increased by fada-90.

Fada-90 is primarily accountable for the oil content of oil seed crops like

cotton, peanuts, etc.
DOSAGE :
8 kg to 15 kg per acre
Trade Information
Yes

Free samples are available